Overview

What is a 'Dera'?
The word 'dera' goes back many centuries with its origin in Persian, later adapted in the Urdu parlance. A place of temporary dwelling was referred to as a 'dera'. Today the word is still in use as much as the dwellings are.
A home, a hotel, a story.
DeraMandawa has been an inseparable part of Jaipur's history and culture for centuries. Established in circa 1885 by Thakur Jait Singh Ji of Mandawa, it was built for his stay when he came to attend court of the Maharaja of Jaipur.
Today a boutique heritage hotel run by his great grandson, Thakur Durga Singh ji and the Mandawa family, it is a tranquil escape into living the way chieftains of yesteryears did.

Absolute must for Travellers
"This is a travellers hotel not a tourist Hotel. The experience is positive and one that you will remember for the rest of your life"
- Maentwo, Exeter, United Kingdom(25 Novmber 2017)


Our favourite of 11 hotels we stayed at in India
"Mr, Mrs and Ms Singh's hospitality was a key reason for our stay being so great."
- Legin55, Surrey, United Kingdom (19 Nov 2017)


If you are looking for a hotel/home stay with something different, this is it.
" Styled similar to the Hotel Marigold this is a beautiful old Indian Aristocracy family's Palace still owned run by the family but now as a hotel. It has ample facilities, is clean, comfortable, great wifi, genuine attentive service and a perfect location."
- Barry T, Chicago, Illinois (Dec 2016)

Earthy environs and abundance of space
The calm, tranquil environs of Dera Mandawa will surprise you each time because the bustling walled town of Jaipur is right outside.
As you step through the 'Pole' (traditional entrance) at Dera Mandawa Jaipur, time slows down. Every nook, corner and detail surrounds you with Rajasthani flavour and abundant luxury.

Hidden gem
"From the bustling street in old Jaipur you really don't imagine what's hidden behind the gate. It's like stepping back in time into a royal era, but with modern comforts."
- Karen S ,Boston , Massachusetts, USA (23 October 2017)


Traditional Jaipur Hospitality at its best
"From the moment we arrived to the time we had to leave, Mr Singh and his team couldn't have been any more attentive, entertaining and hospitable. I cannot urge any reader enough, that if they have an option to stay anywhere in Rajasthan, make sure this is on your must do list."
- Wilfred Charles(Oct 2017)


Loved, loved, loved this hotel.
"Three week trip to Northern India with three kids. Charming owner, beautifully large rooms, great food. A quiet retreat from the busy streets of Jaipur. Staff are very attentive and its a beautiful collection of buildings. Our favourite hotel of our whole holiday....staying here is a must"
- Tessa S, Bradford-on-Avon, United Kingdom (May 2017)


Suites & Stay

DeraMandawa is a confluence of influences. Here every suite is unique and a very personal ode to the many cultures that touched our past.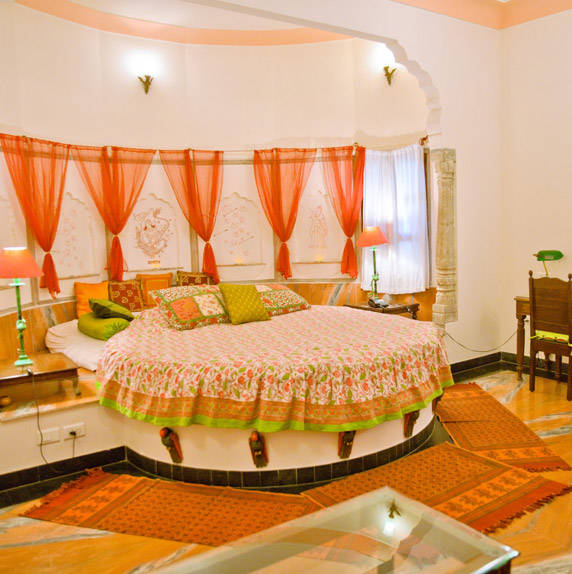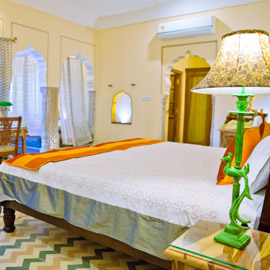 Adorned with Rajasthani jharokhas (awnings) and arches mixed with British inspired doorframes, our suites come with leisurely luxuries like reading corners, traditional swings and colonial armchairs.
VIEW MORE

Experiences

Games, recipes and attires that have enriched our culture for generations, all converted into curated experiences for you.